So , a bit of a long story ..............
I bought a Craftex CT043 in 2004 , a B048 knee mill too and a pile of tooling , all on the same day .
A short time later , like , within a month the electric motor went out on the lathe , no big deal , warranty covered it and I changed it out myself . The lathe has run very well without issues since , until last month .
I was in the middle of making a part for my boring bar and the lathe started acting weird , the motor would not start , it would just hum , it would start if you helped it with a hand , It seemed down on power . It would not run in reverse either , same thing , just a hum . I decided to stop for the evening .
This is similar to what had happened when it was still new , and a motor change got the machine running again back then . I assumed with out checking anything else that I might need to change the motor and went ahead and ordered one from the Busy Bee store here . A couple of weeks later the motor arrived and I installed it .................. hmmmm .....
Problem was still there !!!, my wallet was lighter to the tune of $360 .
The manual I got when I purchased the machine is poor at best , the way it is translated into chinglish is almost comical.
There is a wiring diagram but it's not real detailed and could possibly be a generic version that I'm thinking isn't exactly what I have in the electrical box on this one.
I should consider myself lucky , the machine that replaces this one (CX 707 ) has the same lame manual as this one except there is no wiring diagram at all .
I know there are several Chi - Com 12 x 36 lathes that share the construction and layout as this one so I went online and found two good manuals very quickly , saved them to my desktop , found the wiring diagrams and printed some pages to study .
I believe there are issues with the contactors and possibly the thermal overload relay , based on what I have discovered inside the electrical box.
What I'm trying to find out here is if anyone has encountered similar problems with a lathe such as this one and what it took to resolve the issue.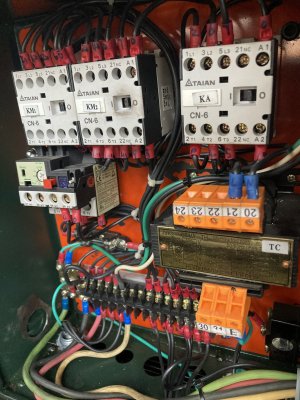 The inside of the electrical box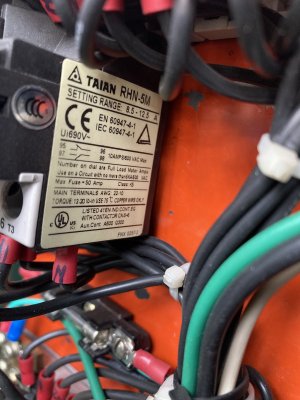 The thermal overload relay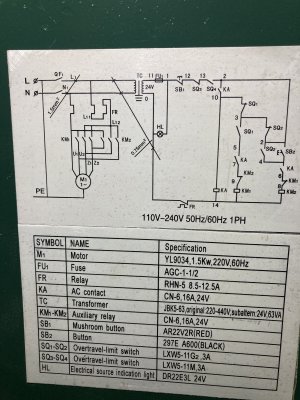 The wiring diagram on the inside of the electrical box door
Last edited: