Meeting Admirable Nelson
Earlier this year I got a call from a friend that a machine shop was going out of business and they have some equipment for sale. I went there honestly with no expectations of finding anything since most shops have machines that are larger than what a home user needs.
But I was wrong, there right at the end of a Harrison M550(beast of a machine) lathe was a Standard Modern 10 inch Utilathe that would soon become mine. I paid $30k JDM which is about $300CAD (I know my currency is monopoly money at this point) for. It then spent the next few months waiting for me to move it.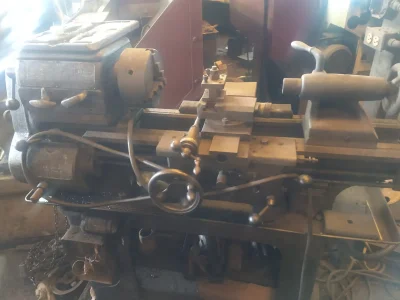 the utilathe in all is grimy glory, believe me somewhere under there is a lathe
not the best video but it works to show the grunge, people here don't seem to care much about machine tools.
Almost Lost Nelson(Lathe)
Moving the machine was one adventure after the other, first the lathe was separated off the table and a 3 ton crane used to lift it, I followed the instructions on lifting as outlined in the manual and nearly damaged the lathe, because it was separate from the table it was now extremely head stock heavy and this was not accounted for during the lift, well it was but was underestimated as the carriage was moved all the way to the other end of the bed. It started to swing in the crane towards the headstock and then the carriage which was not locked started to move towards the headstock adding more weight to a problem its almost as if old U 613 wanted to sink before we even started. If the machine fell out of the crane I suspect the damage to it would have killed it since its a lot of cast iron that makes it up. Fortunately it was a simple lift and place operation and somehow we got the machine on the hand truck with all that was going on. The weight of this machine will not be underestimated again.
We eventually man handled lathe to an awaiting pickup then man handled it up into the bed then went back for the table which we found was concreted in place (oh joy). Some gentle persuasion with the persuader more commonly known as the sledge hammer made short work of that problem. Ah the humble hammer, truly a tool of an artist.
We then moved the machine to the room that it is currently at where I decided that I may as well dismantle it to see if I could get it cleaned up and that led me to tearing it apart almost completely for cleaning and repairs
Actually Lost Nelson(Dog)
I received a Belgian shepherd Groenendael to care for for the final years of his life and lost him recently which is why I decided to name the lathe nelson in his loving memory.
Things that aren't working currently
3 Jaw Chuck ( jaws mismatched and seized somehow)
Half nut doesn't want to engage (ok so I goofed and did not know about the lockout, don't judge me)
quick change gearbox selector doesn't want to move
Busted Cross feed nut
Tailstock clamp missing (to clamp to the bed)
Bull Gear Tooth Chipped
Some of the other stuff that I should be getting from the machine shop once i find somewhere to put them, but I like these problems having machine tools and no where to put them :3
two Meddings Drill presses(both bench top one with a table and one with out, they clock in at about 275 and 265lbs
Surface Grinder
Southbend Lathe
2 Myford Lathe (7s I believe)
grinder
hydraulic press
and a bunch of nick nacks for the machine tools ill know when i get them
all this stuff needs to be repaired in the long run though