Ultra Member
Vendor
Premium Member
Hi everyone—I'm just fishing around right now, but I may have a big project over the winter building a customized wood handling machine for a friend. One of the components on it is a set of steel jaws, which I
think
would need to be hardened. I don't have all the details yet...but basically they need to grip dimensional lumber and pull them with 2+ tons of force through another machine. The jaws are cams (more or less) with "teeth" on them. I don't have exact dimensions yet, but am guessing these "cam jaws" are roughly 3/4" to 1" thick steel—maybe 3" by 6" in size for the raw stock before the cam shape is cut.
I am more of a weldor and fabricator than a machinist. Are these cam jaws something one can buy? Is something like this easily machined? Can you then take it somewhere (in Calgary) to be hardened? I think it needs to be kind of similar to a pallet puller in terms of hardness or ruggedness...or maybe similar to the feed roller on a wood chipper ??? (I don't own a wood chipper, but I have seen Fargo if that counts.)
Sorry for the stupidity....but I'm way out of my comfort zone here when it comes to machining and especially hardening steel.
I've attached a pic (I know, the resolution is terrible) that approximates what I
think
needs to be built. I'll know more in a month or so if my friend wants to proceed. Right now I am just researching if this is even something a machinist could do, or if it is something different...such as casting? If it is a machine shop job, and someone on this forum could do it, I'd love to work with you. Best part is the machine he is building is a one-off prototype for his business, so this is more of a proof of concept than a production run—he isn't shooting for perfection and it will probably be a trial and error project with a few iterations (all of which he would pay for). I'm comfortable with the CNC plasma cutting, welding, and the fabricating for the rest of the machine (which is 95% of the work), but the cam jaws have me scratching my head as I don't know where to start if I get the work.
Any thoughts? Thanks guys.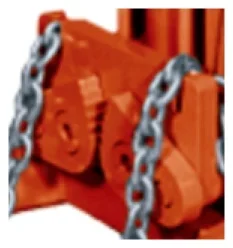 - Peter
Last edited: