Now I still have to wire up to the air solenoid and clean up the hoses but I've been putting off mounting the nozzle assembly for about a year. All because the hose was too short. So this week I came up with a solution. Hose for fluid reaches. There was no excuse to not mount the mister.
So I found a corroded piece of aluminum flat bar 1.5" across. Cleaned it up. Used lots of the tools in the shop to center the holes etc. Drilled and threaded the aluminum casting to mount the plate. Drilled and tapped the plate for the valve assembly.
All done. Now even if I don't add coolant I can have just air blowing on what I cut.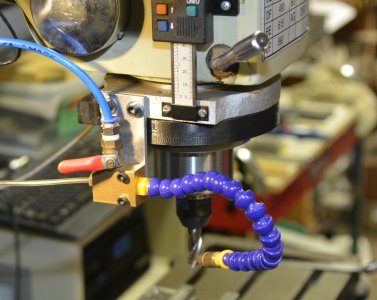 So simple. Project 42 is done. Only 42 more to go.