The F85's. 442's were too expensive at the time.. Much like your Mustang haha..
Had a family of kids to feed at the time so..,
I went outside the norm in Olds... Pulled up with a 76 Olds Cutlass Supreme.

Pulled the wheezy 350 out, built a 461CI
Fabricated 9" rear with 433 gear/ 14x32-15 tire
Car went 11.53 @ 115 MPH, 1.572 60 FT in full street trim at the time.
That's a lot of cubic inches must be a torque monster.
My 65 with normally aspirated small block full interior but with 28x9 slicks, granny shifted to 10.7@128MPH through the mufflers.
Sounds like we were making similar power, yours more torque. I'm guessing the 65 is a good 500-700lbs lighter maybe more? Rule of thumb every 100 lbs is a tenth.
Apparently they tested a 427 vette against the 427 AC Cobra. 0 to 100MPH to 0
The Cobra was stopped at the end when the vette was just getting to 100MPH. CS had the weight aspect figured out.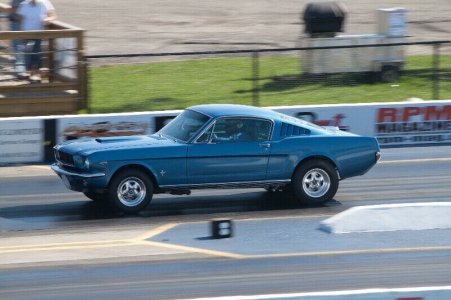 Last edited: