I purchased a DRO from Aikron as it was mentioned in another thread and am working on installing it. I am about halfway through installing the longitudinal scale. I have the scale and shield mounted and am milling up a few brackets to fix the reader head to the backside of the carriage.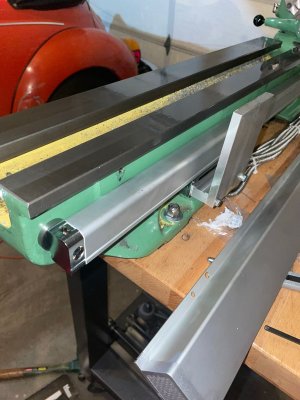 Before the milling the next part on the bracket, I wanted to drill and tap a few holes on the carriage and then match those features. There is not a lot of material on the Myford carriage so I decided to drill the holes in the mill to keep the drill bit from wondering and blowing out the side of the carriage. I knew holding the carriage in the mill in the orientation I needed was not going to be straight forward. I wanted to use the t-slot on the front side of my table and clamp the carriage vertically on that face. Unfortunately the previous owner of my mill mounted the mill's DRO on that side of the table, so I had to spend a few hours relocating it to the back of the table.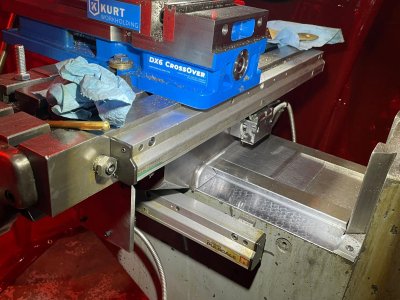 The next minor hurdle was that the front t-slot is smaller than the table t-slots as it is presumably only really meant to be used to hold travel stops for power-feed setups (Except the t-slot seems a bit overkill for this LOL). I milled some flats into the threaded section of some 1/2" bolts, as the bolt heads fit inside the t-slot portion quite nicely, and the remaining threaded portion of the bolt would work with the rest of my clamping hardware.
From here it was tricky to hold everything in place as it was clamped down, two extra hands would have made it much easier. The aluminum flat bar clamped to the table was used to support and align the carriage. I was also *just* inside the workspace that the mill head could reach by moving the ram out all the way. If the carriage was an inch longer I dont think I would have been able to reach the far edge.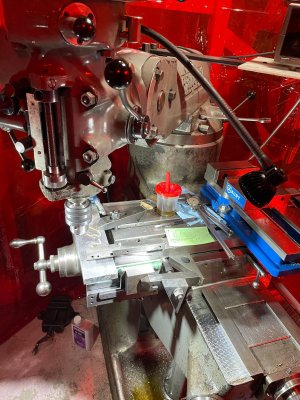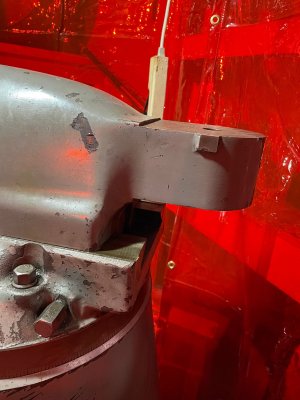 From here the carriage was tapped around a bit with a mallet to get it true and then drilling the holes was straight-forward.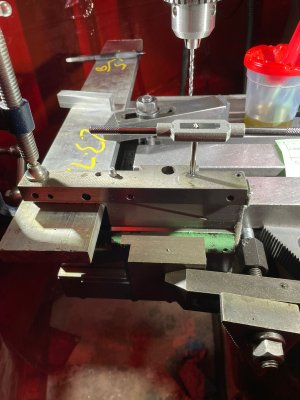 Next steps are to re-install the carriage and finish the brackets for the longitudinal axis scale.