Ultra Member
Premium Member
The machine is safely home. Used a lift bed trailer. We were able to drive the forklift with the mill up the deck that was lowered to the ground. The 5000 lbs forklift had to work a bit to get it in position, but it worked out.
Here is the load ready for the trip home. Yeah, I know, lots of straps.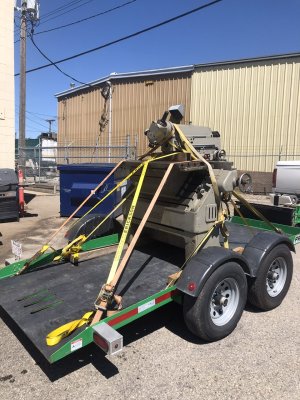 We were offloading using a 5500 lbs pallet jack. The rope is there to control the speed down the deck. Right after we took these pictures, we had an unexpected move of the machine on the pallet jack. We immediately secured the mill with safety straps and regrouped our approach. Using a second 5500 lbs pallet jack from the opposite side, we were then able to bring the mill safely onto terra firma. Sorry, no pictures of that phase of the move as our focus was heightened on safely continuing the job and not taking pictures.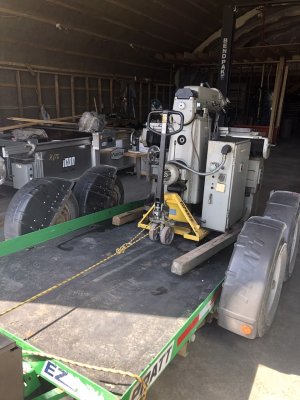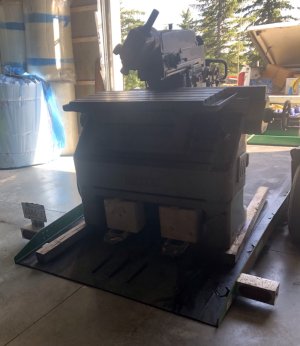 It is now safely on the concrete floor.
Then we got to do the unboxing... (the seller had everything neatly packaged up by the time we got to his shop). Here is a picture of the included accessories. On the left are Deckel collets that also fit my Deckel SO tool grinder, yeah... (I only had a 1/2" one, super happy about that). The tapered cone right beside them is the spindle adapter to direct mount the collets both in the vertical and horizontal spindle - saves a huge amount of head space.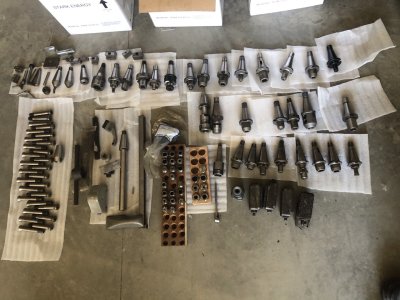 A huge thank you to
@Dabbler
for his great help today. Much appreciated.
Last edited: