(John)
Administrator
Premium Member
I was looking at various cap head counterbores and sets in the usual places. There are a couple of different styles.
In one style you can pick different pilot hole drills from a set and install it in the counterboring part. In another style the pilot hole drill is fixed. In some of these versions it looks like you need some sort of smaller pilot hole to start. e.g. drill a 8.5mm pilot hole and then the counterbore for 9mm through hole with a M8 cap head counter bore (About 14mm). In other styles the pilot hole is drilled with a 118 degree pilot as part of the counterbore bit like in the below example.
What are people using and what should one look for in these bits?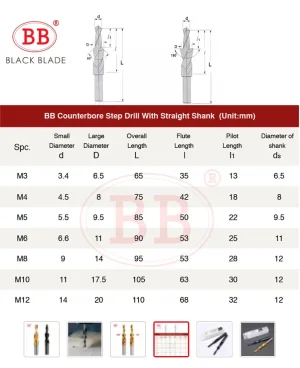 Accu size has the kind with interchangable pilot drills.
and a less fancy set with fixed pilot holes