(John)
Administrator
Vendor
This project plan is a real plan and also a sample to show how to use the project plans area.
The Vise Height Standoff Project was started by
@Dabbler
. The idea is to make a riser that supports long stock coming out of your milling vise. The height of the riser should be the same as the bottom of the jaw area in the vise. A secondary feature allows the insertion of a 0.125" thick parallel to match use of parallels in the vise. Pictures attached show various usages.
The standoff is held in place with a 1/2" allen key head bolt going down to a T-Nut through the slot in the standoff. This bolt size could be adjusted to fit the TNuts on your mill, perhaps just with some washers to support smaller bolts. The height of the standoff is 2 7/8" which is the proper height for a Kurt DX6 or similar clones - adjust to fit your vise.
We simply printed this one in plastic. It warrants making out of metal I think. If someone wanted to work on a mashup (a revision) I think it would make sense to also have a way to clamp down the material to the stand off.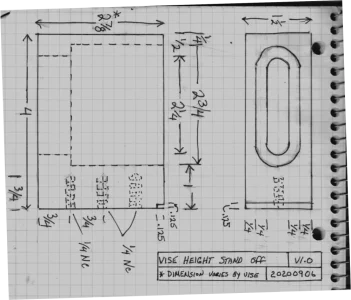 Last edited: