This is a set of tips on how to use ER collets as gleaned from an article published in "Modern Machine Shop" after an interview with Jonathan Harvey at Rego Tool. Rego is the initial developer of the ER Collet system.
Here is my summary:
1.Ensure adequate clamping length - always engage the tool at least 2/3 of the way into the clamping portion of the Collet.
2. Always use a torque wrench to tighten the collet nut to specifications.
But..... the article doesn't say what that torque should be. So I did a google search and pulled together the following chart as a guideline. I'd recommend finding torques for your own collet set if you can find it. To-date, I've never used torque to tighten my collets. So this is a new beginning for me. My claw wrenches don't even have a provision for measuring torque so I may need to drill a hole to take a fish scale.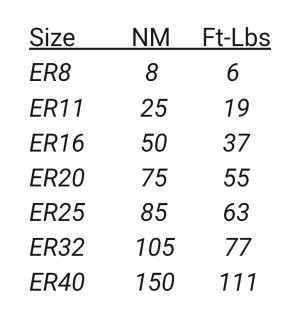 3. Ensure proper alignment of the collet, collet nut, and tool. Assemble the collet into the nut correctly first, then insert the tool to the correct depth, then torque the nut to specs.
Note - correct installation of the collet and collet nut is very often done incorrectly. The correct method is to identify the eccentric lip/ring inside the nut, insert the collet into the nut on an angle to engage the lip, and then rock the collet to snap it into full engagement. Reverse this process to remove it. Here is a link to an image that illustrates the process. I used a link instead of a direct image in order to avoid copyright infringement for the image.
4. Remove the backup screw if your collet holder has one. Most ER Collet suppliers have already removed this stop screw because its too easy to use incorrectly. If your collet holder has one, Rego recommends removing it. (
To be honest, I've never even seen one.)
5. Keep your holder and collets clean. A precise fit of the collet, tool, collet holder, and spindle tapers requires a tight clean fit. Always keep these surfaces clean and free of chips and dirt and brush or blow any dirt out of the expansion slots.
6. A small tip of my own - always use collets within their design range. Never use a tool that has to be forced into the collet, and never use a tool that is too small for the design range of the collet. Many collets are marked with their design range. Sometimes even the design range is too big. In this case, it helps to have a set of metric collets that will have a collet that will almost always fit when the imperial collet is just a tad too big.
Here is a link to the original full article for those who would prefer to read that: