Ultra Member
Moderator
Premium Member
How many different kinds of walnut there are is a bit like how many different lathes there are. Some would add Turkish, English, Circassian, and a half dozen others to your list. Some are actually the same tree grown in a different climate or soil type. Then there is the figure level - plain, crotch, fiddle, tiger, etc etc. I think Walnut is beautiful in all its types and figures but my personal favorites are Claro Crotch and Claro Fiddle.
This is a stock I carved from Claro Walnut 50 years ago with both fiddle and crotch feather in it.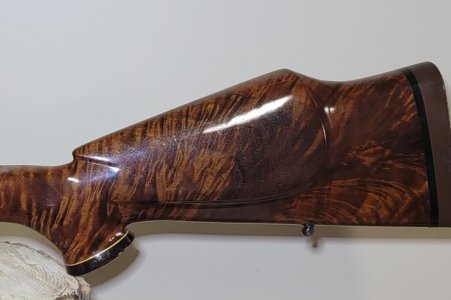 I don't personally think black (American) Walnut is in short supply, but that's probably because they are everywhere around here with hundreds of new ones popping up every year where ever there are squirrels.
FWIW, I don't think fiberglass and Tupperware showed up because Walnut was rare. I think they are just cheaper and more stable. Real wood of any kind has to be sawn, dried, milled, fitted, and finished.
Tupperware can be molded to fit a standard receiver with much less work at much lower cost. I personally hate them. Actually, hate isn't a strong enough word.
On the other hand, I do like fiberglass. Glass stocks are not as much work as wood, but way more than plastic. Fiberglass must be laid up in layers, filled, then coated, and finished. The biggest advantage of a glass stock is temperature and humidity stability. Glass is very popular in competition circles.
Another option is laminated wood. I like laminated because it has the warmth and appeal of wood yet is very stabile with temp and humidity changes.
I have handcarved Walnut stocks and laminated stocks myself but never milled one. However, I have inletted several to take aluminium bedding blocks using a mill. In fact, the stock I showed above actually has an aluminium bedding block in it that I installed about 10 years ago. A bedding block is a good way to get better temp/humidity stability while retaining the look and feel of real wood.
Did I mention I hate Tupperware? No? Well I hate Tupperware. However, I know a few folks who love it. Each to their own I guess.