Ultra Member
Premium Member
Spotted these on FB marketplace today. Two vises for $600. Figured I'd get some of that back selling what I have now. Was on the fence about keeping both but managed to sell a toolbox today. Sometimes a matching pair of vises can be very handy.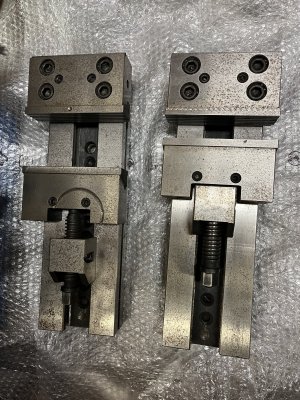 A little light surface rust and some grime (coolant and shop dust) but should clean up nice. Got one wrench and 4 of the clamps with them.
The guy that I bought them from is downsizing as he approaches retirement. Small machine shop that specializes in roll forming dies. Had a neat surface grinder of a type I'd never seen before, a rotary horizontal surface grinder.