I got a massive box lot via an auction last week. It included several sets of user-made parallels and clamping hardware (and LOTS of other stuff). The following blocks were included and I'm having trouble picturing just how they might be used: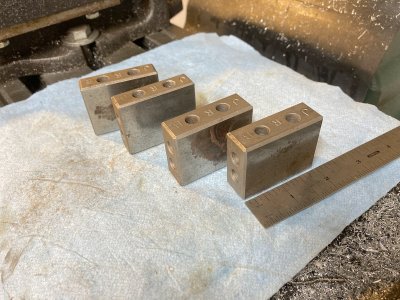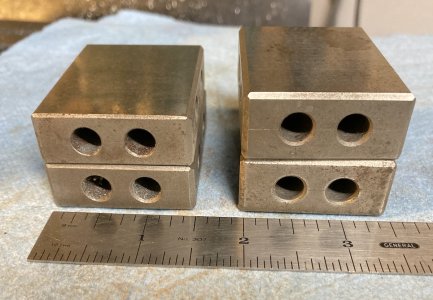 First, the pictures look worse than they do in person. The 'rust' is really minor surface corrosion.
At first, I thought they were like little 1-2-3 blocks but only the two larger surfaces on each block is ground. Of the others, one has the guy's initials heavily stamped so that's not a good reference surface. The intersecting holes are 9/16" diameter so I could use 1/4" hardware to...do something?
BTW, note that there are 2 pairs of differing thickness. That surprised me--4 all the same would seem more sensible to me.
So, just a minor curiosity for me but I'm wondering what "JRB" had in mind when he made these! What do you think?
Craig