I just received and tried out one of the inexpensive "50-amp" lunchbox sized plasma cutters, and I have to say I am somehwat impressed, even though my initial "technique" is inexperienced and undeducated.
The unit i have is the BestArc Pilot Arc BTC500DP 50Amps Dual Voltage 110/220V unit. This is NOT one of the very cheapest units available on places like Amazon. It's a small step above those in terms of price, but what it offers in return for the extra $100 or so, if bought new off Amazon.ca, is a very favourable bump in both features and build quality.
After finding some ads on Facebook, I had previously done a fair bit of research on plasma cutters. I realize that for professional use, the name brand, well designed and well built "lunchbox sized" 120 / 240 volt units are in the $2500 & up range here in Canada. But most DIY guys like me can't afford to spend that much, especially for the limited number times we would use one, and the modest thicknesses most of us would cut compared to commercial businesses. So, yes, there IS a need for low priced plasma cutters, provided that they have REASONABLY decent feature sets and are sensibly reliable. You probably shouldn't expect the same robust reliability you get from a unit that has a 4-digit price, but then the cheap units at Amazon and other online places have prices that are literally 1/10th the cost of the pro units.
Having said that, I watched an impressive YouTube review of the BestArc Pilot Arc BTC500DP that was done at least a year ago (maybe longer -I could not find the original date) by Mike Festiva, who does a lot of very practical metal fab reviews targeting DIY guys and gals. He really liked its features and performance, AND by the time I saw the review, he had already added comments below it noting that he had had NO reliability issues in all the time he has owned it. That's a pretty good endorsement for a product that is only about $100 CDN above the cheapest units online!
Here are a couple of photos of the unit and its trappings: (NOTE! The grounding clamp shown is NOT the one that came with it. It came with a more typical sheet metal clamp. I replaced the grounding clamp with a high quality one at the same time as I replaced the clamp on my TIG welder)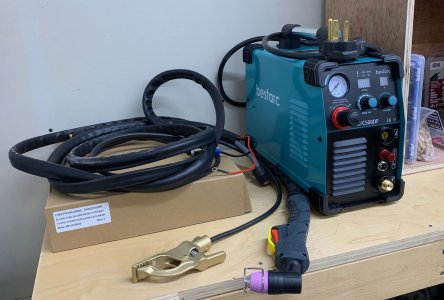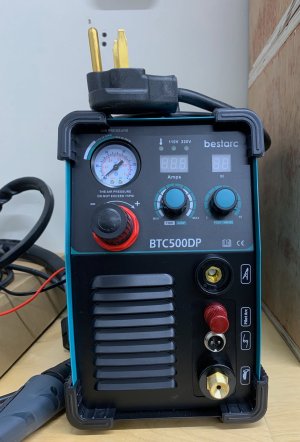 Notice the generally high quality of fit and finish and features:
- A REAL 240 volt power cable and 50 amp plug, plus a 240 to 120 plug converter (versus the inferior 120V cable and plug with 240 V adaptor that the cheapest unit come with)
- Automatically recognizes whether 120V or 240V, and self-adjusts to it
- Standard male 1/4" quick disconnect supply air fitting (versus a clamp-on setup that always leaks and is a pain to connect each time)
- NO air leakage (exterior and interior), which is a relief after reading some of the horror stories on the cheapest online units
- A water trap with pushbutton drain built into the air system, easily visible but well integrated into the unit's rear (not hanging out waiting to be hit and damaged). This is a real plus as water in the air supply is really hard on both the plasma cutting torch components AND the resulting cut quality
- Pilot air system with built-in replaceable standoff (You can also buy a version that lacks the pilot air, but the saving is apparently only about $25). This makes usage and resulting performance both MUCH easier
- Adjustable air pressure knob with display gauge
- Adjustable amperage knob with digital display
- Adjustable post airflow knob with digital display
- BIG DEAL: Requires only an air supply capable of feeding 35 to 75 psi air at 1.5 to 5 CFM. From the included recommendations table, my intended usage should require only about 50 psi and maybe 2.5 CFM, which is less than my compressor can provide. Note that the user manual says to keep the psi set under 75 psi maximum - apparently anything higher is never needed given this unit's maximum cutting capabilities, and too much air pressure can hurt cut quality. This unit is therefor an appropriate "fit" for my needs and my compressor capabilities.
I connected it all up to do just a quick check to make sure it works, and works with my compressor and my 240V 50 amp oultet (same one I use for my TIG welder). I also made sure it can be cutting at 30 amps (my largest anticipated amperage) while my compressor is ALSO running, since my garage workshop is fed by a 50 amp subpanel, which has to simultaneously run the 240V plasma cutter, the 120V compressor, and the extensive 120V LED lighting (bright as a laboratory!). Everything worked fine.
My test cuts were in 3/16" 5000 series Aluminum coupons that I currently have in the shop. The thickest and worst to cut via plasma cutter material that I anticipate cutting in my shop will likely be 1/4" aluminum, so this was a reasonable way to test basic functionality of the unit, AND its being fed by my smallish "pancake" compressor (3.7 SCFM at 40 psi and 2.6 SCFM at 90 psi) which was designed to feed an air nailgun.
Note that I have zero plasma cutting experience and therefor have NO idea of what combination of air pressure and amperage is appropriate for 3/16" 5000 series aluminum. I just wanted to make sure the unit worked and that my compressor could feed it.
Results: The unit DID work, and did cut, and my compressor seemed to be adequate.
The cuts themselves were reasonably fast and easy, and had the apparently desirable slight "backward tilt" appearance. But, there was a LOT of ragged deposition on the lower (only) surface edges of the cuts (nothing on the top surfaces of the cuts). I am assuming this is because I had an inappropriate combination of amperage and psi. But I could be wrong - could this be a result of cutting aluminum? Or, did I just apply way too much or way too little of either psi or amps?? (LOTS to learn apparently)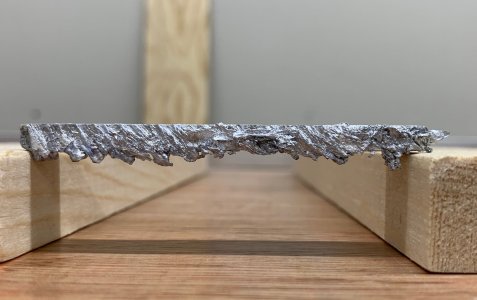 In the photo above, the cut was made moving from right to left ( <--- ). Note the "rearward tilt" in the cut pattern. The dark spots are probably where I got the torch "skate" caught on surface imperfections in the coupon and lost the arc temporarily??
I was astonished at how CLEAN the actual process was in terms of smoke, sparks, and residual debris on the floor (I was cutting coupons clamped to a metal tabletop at about 30 inches above the floor). I saw no fireworks at all in my autotint welding helmet. After I took my helmet off, I found only clean aluminum fragments on the floor, and not that many. I had NOT cleaned the coupons in any way, but still found no ash or other evidence of impurities.
So, success so far in basic operation.
I obviously though need to learn a LOT about appropriate combinations of air psi and and amperage. Where do I look for that kind of specific information?
Jim G