I gave brazing a second go with a much smaller torch and tip. I got my partner to take a video of the process so I hope you guys can give me some feedback.
Materials:
Tubing: 0.6mm thick chromoly (~0.025")
Braze-on bottle boss: ~1mm thick chromoly (0.040")
Filler Metal: Fillet Pro -
https://www.cycledesignusa.com/silver/fillet-pro
Flux: Harris Stay-Silv white brazing flux -
https://www.harrisproductsgroup.com/en/Products/sswf7
Torch setup:
Tip size: Little torch #5/AW202 (this is almost exactly the same size as a victor #00 ->
http://www.bikesmithdesign.com/Welding/tips.html
)
Acetylene pressure was 4 psi at the regulator. I opened up the valve on the handle until there was little to no soot coming off the flame.
Below is a photo of the end results, about 15 seconds after turning the torch off.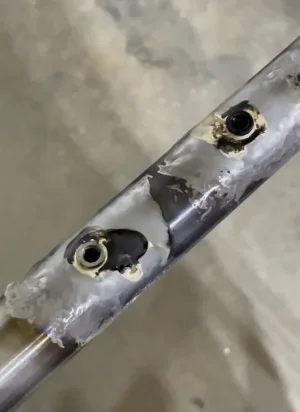 Self-reflection: I know the blackened charred bits is burnt flux, and that is generally to be avoided LOL. At 1:44 in the video I can see there is 1 spot that got white hot which matches the large blackspot on the lower-left boss in the photo above. I thought the first boss (upper-right in photo) went pretty well, but I was surprised to see some burnt flux after taking off my goggles. The black flux on the upper-right boss is still kind of shiny and glassy, whereas the large burnt sections on the lower-left is dull, and a bit sand-papery. Clearly charred. I've read that other framebuilders use a Victor #00 tip for these small braze-ons (which is essentially what I used here), but the torch in their videos sounds less turbulent, so I wonder if I should just choke up the valves a bit.
Here is a framebuilding master showing how its done. He is using a #0 tip, but his flame sounds much gentler than mine. He is also using a heat sink which also serves to keep the boss level.
I was a bit surprised at how quickly the tubing went from a dull grey to white hot. I held the torch a few inches away waiting for the white flux to activate, then I went in and tried to melt a dab of filler. By the time the filler melted the tubing was overheated.
Last edited: