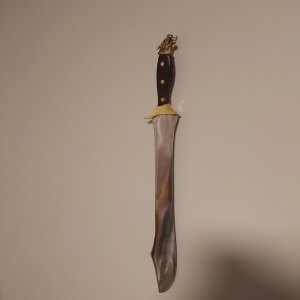 I've decided to forge a much larger blade now. Rather than a short hand knife I've forged this custom machete out of NitroV high carbon stainless steel. For more creativity I also tried using scaled juma for the handle, together with a brass hilt, and brass dragon head pommel. All three of those go very well with each other to make up a dragon handle.
I also decided to make the back of the blade serrated. The front edge of the blade has excellent edge retention by NitroV's high nitrogen and the hardening I performed.
I am very happy with the blade but it wasn't perfect, because I happened to make the mistake of tapering the teeth. With the tips of the teeth thiner than the blade they don't allow the rest of the blade to pass through when using the saw, regardless of how sharp the teeth are.
Last edited: