Hi:
If you want to play along at home, you might want to download the attached pdf--somewhat easier to read than the image below.
So I really need to reconfigure my basement shop. The floor plan shows about 1/3 of the basement of our house. This portion is about 32' by 11'. Which sounds like a lot but I lose space to the furnace, water heater and we need a general storage room.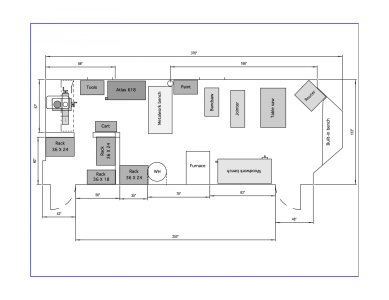 The woodworking side of the shop is pretty much as I've had it for 20+ years. I'm trying to create a metalworking end to the shop while leaving a storage room with 3 large storage racks. The walls to create that room will be have to be added. The area is unfinished.
Based on my headscratching so far, I would wall off the storage room leaving enough space for the working width of my Craftex mill-drill. It needs 65" of width and so I set the walls to finish 67" wide in that alcove. That leaves me just enough room for the 3 storage racks, as shown.
After that, I would put my Atlas 628 lathe against the outside wall with a 30" tool cabinet* and 30X60 metal-working bench* on either side. On the interior wall, I'd have enough space for a 36" rack* for shop storage.
Later, I'll have to work out lighting and receptacle placement.
I'm not really happy with the 'metal end' of the shop yet. I think my small vise, grinders (2), 1" belt sander, and arbor press are all going to have to share the metalworking bench. Won't actually leave much room for bench work. (Of course, the benches in the woodworking end can be shared but that's got drawbacks.) Also, I don't think I'll have very much wall space for additional cabinets and storage.
The space around the mill-drill kind of looks like no-mans land. The mill gets in the way of using the surround space for storage. Any suggestions?
BTW, I'm pretty much a novice with CAD and I'm still trying to figure out both how features are commonly represented AND how to do them with my software (CADintosh).
Craig
* To be purchased.