Ultra Member
Moderator
Premium Member
The last time I had a major screw thread pitch size problem (that I remember) was with the height screw on a BXA tool holder.
I hit a new one today. It makes no sense. I can't make heads or tails of it.
Here is the hairy beast that is causing all my angst: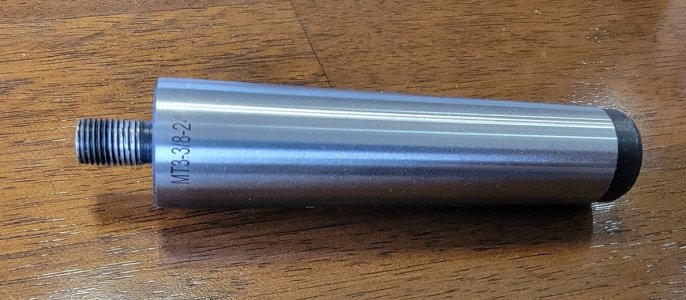 It is supposed to be an MT3 with a 3/8-24 screw post on it. You can even read that on the arbour if you look closely. The MT3 part is fine. The 3/8-24 part is all F'd up.
Here are the pertinent dimensions:
OD - 0.343" 8.71mm
Thread Pitch
26 excellent fit
1.0 poor fit (closest I have)
A 3/8-24 nut will go on it but not without mangling the threads near the MT3 taper as the nut starts cross threading.
So what the heck is it?
My guess is that it's the product of a CNC programmer somewhere in a developing nation who is metric and is trying to make imperial parts without a single clue what he is doing. I'd love to be wrong.