I'm sure this is old news to professional weldors, and after 30 years of hobby welding I'm ashamed to say I just learned this now. But I recently repainted an old fire hydrant to mount in our backyard for our new puppy. I needed a way to mount it but didn't want to pour a concrete base.
So instead I plasma cut a 1/4" base flange, bought a 24" x 24" patio paver, and mounted some bolts I had to the flange after cutting off the heads (I need them to mount flat). Normally I'd just grind the zinc off prior to welding, but this wouldn't work well in this application.
Dr Google pointed me in a few directions, including commercial products. But the two solutions that I tried first worked great. The first was standard muriatic acid from Home Depot. The second was household vinegar.
Both worked, but what I learned was the muriatic (HCL) acid works too fast—if you don't watch it closely it will pitt and destroy the whole part. Regular vinegar is great, but too slow. Pickling vinegar (at the higher 7% acetic acid concentration) is perfect. In about 30 mins all the zinc was gone and the bolts were ready to weld. Best of all the stuff is cheap. Kind of fun to watch it bubble too
Remember to wash off well with water prior to welding.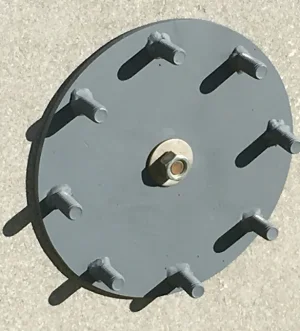 Last edited: